---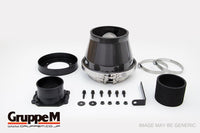 Enjoy this Alfa 147 Super Cleaner Intake System created by the amazing artisans at GruppeM Japan.
The SUPER CLEANER CARBON is GruppeM's solution to a bolt-on air intake system takes advantage of a conical filter surrounded by an ultra-light carbon heat shield drawing cool ambient temperature air into the intake stream minimising the harmful effects of heated engine compartment stabilising engine performance, effectively and efficiently prevents water intrusion and mud from entering the filter. The cone design improves air flow, filter charging efficiency and helps prevent performance loss during high engine loads.
BRAND: GruppeM 
MANUFACTURER: GruppeM
PRODUCT: SUPER CLEANER CARBON
APPLICATION: ALFA ROMEO 147
MODEL: TWIN SPARK 16V
YEAR: 2001 ~ 2011
CHASSIS: 932A2・B2・AXA・BXW
ENGINE: AR323310
ENGINE DISPLACEMENT: 2.0 LITER
PART NUMBER: SCI-0176


GruppeM kits will ship direct from Japan and are deliverable to most of the world. Please be aware, kits are every now and then, made to order and can attract a 20+ day process time. But, trust me, for these kits its worth it.