---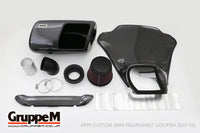 * This Airbox IS NOT compatible with the JCW Strut Tower Bar.
 Refer to table to confirm part number for your vehicle
Arguably the best intake kits in the world, GruppeM RAM Air intakes are designed, tried, tested and all return a better than stock, and in most cases, a better than the competition performance result. Made primarily out of Carbon Fiber, housing a re-usable M's Power Filter by K&N, these provide great flow with great heat-shielding abilities that are only amplified through the RAM air intake setup. 
PRODUCT INFORMATION:
BRAND: GruppeM 
APPLICATION: MINI COOPER S 
SERIES: II
TRIM: R55・R56・R57 
YEAR:  2011 ~ 2014
CHASSIS: SV165・ZG165・ZP16S
ENGINE: N14・TURBO
ENGINE DISPLACEMENT: 1.6 LITER
PART NUMBER: FRI-0334

GruppeM kits will ship direct from Japan and are deliverable to most of the world. Please be aware, kits are every now and then, made to order and can attract a 20+ day process time. But, trust me, for these kits its worth it.