---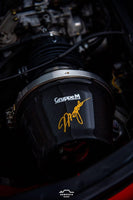 GruppeM engineers design their intake systems as a fully integrated component of the vehicle. They aim to create the highest horse power throughout the engine rpm range that will enhance and deliver that "joker smile" driving experience every driver deserves.

The SUPER CLEANER INTAKE is our solution to a bolt-on air intake system takes advantage of a conical filter surrounded by an ultra-light carbon heat shield drawing cool ambient temperature air into the intake stream minimizing the harmful effects of heated engine compartment stabilizing engine performance, effectively and efficiently prevents water intrusion and mud from entering the filter. The cone design improves air flow, filter charging efficiency and helps prevent performance loss during high engine loads.
PRODUCT INFORMATION:
MANUFACTURER: GruppeM 
BRAND: M's
PRODUCT: SUPER CLEANER INTAKE
APPLICATION: HONDA
YEAR: 1990 ~ 1997
CHASSIS: NA1
E/G: C30A
ENGINE DISPLACEMENT: 3.0 LITER 
PART NUMBER: SCC-0079


GruppeM kits will ship direct from Japan and are deliverable to most of the world.