---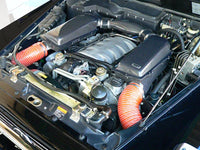 Arguably the best intake kits in the world, GruppeM RAM Air intakes are designed, tried, tested and all return a better than stock, and in most cases, a better than the competition performance result. Made primarily out of Carbon Fiber, housing a re-usable M's Power Filter (K&N), these provide great flow with great heat-shielding abilities that are only amplified through the RAM air intake setup.
PRODUCT INFORMATION:
BRAND: GruppeM
PRODUCT: RAM AIR SYSTEM
APPLICATION: MERCEDES-BENZ AMG KOMPRESSOR
MODEL: G55
MODEL NUMBER: 463
YEAR: 2000 ~ 2004 
CHASSIS: 463243
ENGINE: 113M55
ENGINE DISPLACEMENT: 5.5 LITER・SUPERCHARGER
PART NUMBER: FRI-0404


GruppeM kits will ship direct from Japan and are deliverable to most of the world.